Cancer 2022 Education Horoscope: A Perfect Time To Enhance Your Knowledge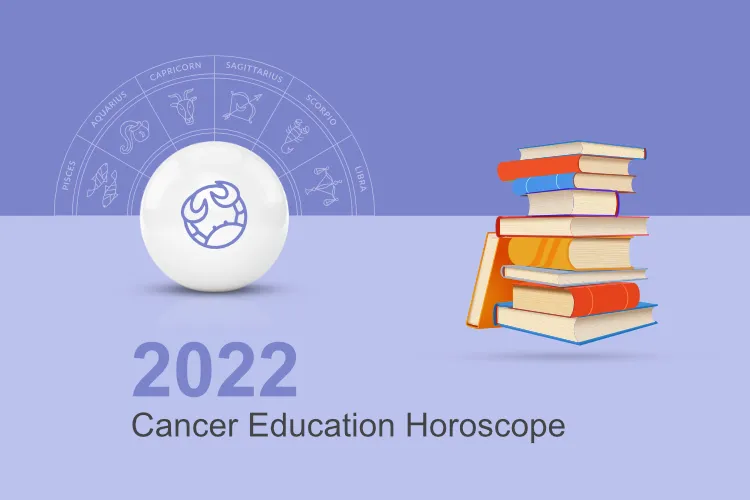 Cancer students might need to increase their focus and hard work to excel in their education and academic career. You should be prepared to work sincerely and diligently and most likely to perform outstandingly well during this year, says Cancer education horoscope 2022. Social media or any other distraction may intervene between you and your academic goals. In simple terms, you shouldn't burn your valuable time on pointless activities. Otherwise, you may regret it later on. You should try your best in whatever you do, be it studies or sports. Eventually, your efforts may pay off. Therefore, plan your year accordingly, says Cancer student horoscope 2002, and take up any learning that you want to pursue from time to time.
Cancer students may improve their decision-making skills, especially if they plan to take up the right approach to enhance their knowledge and learning. Your efforts might be well recognized and may give you the required attention in your life. According to the 2022 Cancer education horoscope, next year, you may work on the fundamentals this year. Your academics may be strengthened next year, so your achievements will most likely be high through various efforts and hard work.
Cancer students who are appearing in the competitive exams may meet their expectation in the first half of the year. You may also take up some tests before taking up such exams. But the good part is that you are most likely to achieve success with your focus and achievements. Natives who are working hard on taking up professional exams in a foreign country, your preparation might pay your rich dividends, says 2022 Cancer education horoscope. The efforts that you would invest in are most likely to improve your fortune. Your mentors or tutors may also appreciate the efforts that you made to reach the next level.
Individuals with Cancer sign who have been taking part in various skills development program are likely to prepare well for next year exams. You would put your work and learn into practice. There shall be great learning and understanding this year. Your efforts might finally pay rich dividends as this would be treated as a vocational subject, expects Cancer 2022 education horoscope. Your performance might bring in good income and even see some rise in your working knowledge. All in all, the year 2022 will be good for students and learners of all kinds. Your interest and hard work are likely to be the true driver in this case.
The year 2022 may bring you a fair time for Cancer natives. You are most likely to get rewarded for your efforts and hard work. Also, you may find ways to enhance your good income. It is advisable that you must think twice before making any significant decisions. It may help you further to use your logical mind in such a way that you may have a wealth of knowledge.
Cancer Career & Business Horoscope 2022
Cancer Love & Relationship Horoscope 2022
Cancer Health & Fitness Horoscope 2022
Cancer Marriage Horoscope 2022
Cancer Finance Horoscope 2022
Cancer Wealth & Property Horoscope 2022