Aries Romance: The Exciting Love Life Of Rams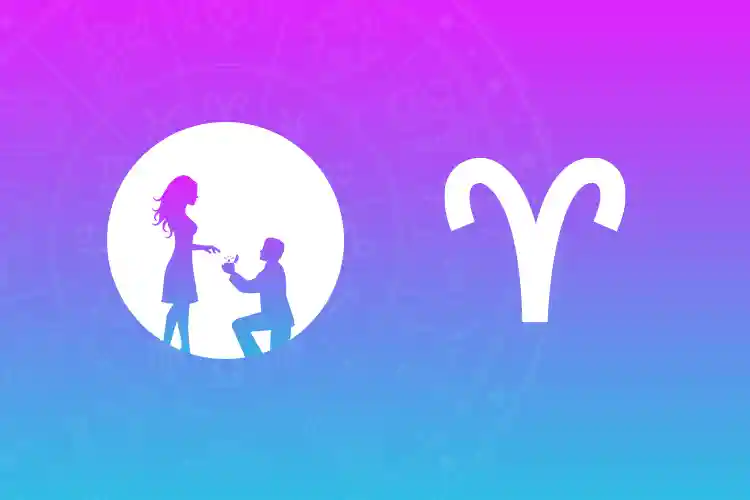 It is challenging to date Aries since they possess a childlike innocence with whom only a few can connect. When it comes to marriage, Aries are attentive, affectionate, and loyal, but they also have a jealous nature. They have a naive attitude toward their lover and are very possessive of them.
Aries natives are fearless and will never fail to protect a loved one. They'll be more likely to risk their lives for the one you care about. The fact is, you need to protect your loved ones from any harm. So, let's read about Aries romance, Aries Love match, and much more ahead.
---
A Summary Of Aries Romance
Aries is a masculine sign that likes to be in control, irrespective it's male or female. Speaking of Aries's romance horoscope, they can be competitive. They are, however, very passionate and adventurous when it comes to love, which can manifest itself in their desire to share their burning sexual desire.
The issue is that this may make them seem emotionally selfish or unconcerned with their partner's feelings and needs. They do, however, have a romantic side that can help to balance any sexual egotism. Aries romance natives are sexy and project confidence. In the world of conformity, Ram likes to do their own thing. This confidence and uniqueness are what attract people to them.
---
Aries Romance: The "Romantics" In Aries Natives
Aries is known for its vitality and truthfulness. Aries Romance treats its partner with childlike optimism. They have a magnetic and motivating personalities. They are born with confidence, goodness, and innocent nature that is sometimes unnoticed at first glance or meeting. They live their life with honesty, openness, contagious enthusiasm, and a thirst for adventure.
In an Aries romantic relationship, they don't play games and like to approach the bond with honesty. They are lovable and capture the hearts of people with their genuineness while being viewed as self-centered or even as we say self-obsessed and impulsive.
When they meet someone who checks all the boxes, they are the one who starts a relationship. They want their partner to be trustworthy and possessive. If their faith is betrayed, they can become paranoid, harsh, and egotistical. They can rebuild faith over time, or they never trust again. So Simple!
Consult our expert astrologers and know about your romantic life according to your zodiac signs.
---
Aries Men Romance
The Aries man is irritable and is always the first to try new things. He's a natural leader who is very involved and always has new ideas. The Aries man loves meeting new people and engaging in meaningful conversations. Aries Men in love is straightforward and can come off as offensive, even bossy, so don't ask unless you're prepared to get a piece of his mind.
But since Aries man does not respond well to feedback, make sure you sugarcoat things for him. He's the kind of person who wants to know what's going on with you and would like to be the first to find out. The Aries love personality of man is a passionate and creative partner who enjoys trying new stuff. Boring doesn't work for him, and he'll walk away if it does.
When an Aries man falls in love, he only wants to love deeply and can be very controlling and jealous at times. You must keep up with his romantic side and keep his emotions in check.
---
Aries Women Romance
The Aries woman is a lively creature who likes to be in control. She is ambitious, adventurous, and assertive. She's a woman who knows just what she wants out of life and will boldly go where others fear to go, challenging everything that comes her way.
When an Aries woman falls in love, she gives everything she has to the relationship. She'll be passionate and dedicated, even if she's not overly romantic.
Since the Aries woman is straightforward, you'll know when you've made her happy – and when you haven't! But hold on fast because this lady can't sit still. You'll be agreeing to slide down a mountain in no time because she's convincing (some can call her bossy!).
---
Aries Romance: Positives And Negatives Of Aries Love Life
The astrological sign of the person you date or fall in love with will reveal a lot about them. We're not talking about astrology or horoscopes here, but rather zodiac signs and Aries love personality characteristics and behaviors.
Now, before you get serious with anyone, you should know about Aries' positives and negatives.
The Positives
Aries Romance – They are incredibly protective of those they care for.
They will go to the ends of the earth to protect and defend you.
They enjoy taking chances and are looking for a little fun and excitement in their lives.
Aries Romance do not flee from a tough situation.
They are courageous and do not back off once they are committed to a relationship.
The Negatives
Aries love behaviour can be disrespectful at times as they are ultra firm about their beliefs.
They are arrogant and feel that they are always right.
Their arrogance and stubbornness make them difficult to deal with.
Aries romance tend to be impatient.
They don't think things through before saying.
They have a high level of impulsivity.
They aren't fitted with a filter.
They don't pause to consider before asking a question.
Need precise guidance related to your Aries love interest?
Do you want to marry a Aries girl? check Your Compatibility with Aries Woman.
---
Aries Compatibility with Other Zodiac Signs
Gemini, Leo, Sagittarius, and Aquarius are thought to be the most compatible signs with Aries. When comparing sun signs, you will get a good idea of compatibility. On a wide level, however, this is only a fast and simple way to compare, and there will be several exceptions.
Good: Gemini, Leo, Sagittarius, and Aquarius
Average: Cancer and Capricorn
Cancer and Capricorn are the zodiac signs that are least compatible with Aries.
---
Aries Romance: Conclusion
If you choose Aries romance, they are very enthusiastic about the things they enjoy in life and would go to great heights to achieve them. They keep the flame burning.
To keep the relationship healthy and optimistic and their partner happy, they will do imaginative and fascinating things. In case, your fate is set with any Aries match, all the very best and just stay happy!
If you need detailed astrological predictions on Aries romance, Talk to our expert astrologers.
---
---