Aquarius Romance: The Love Traits Of Water Bearers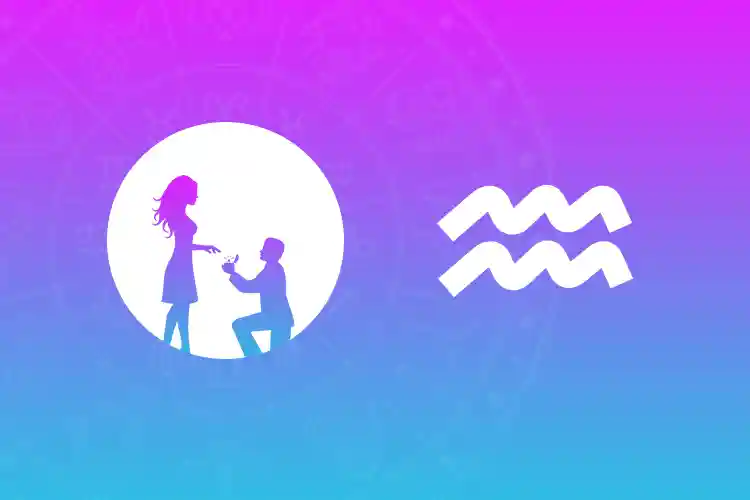 When it comes to passion, an Aquarius is a power to be reckoned with. Although they are always hesitant to commit because they want to be sure of both your mental compatibility and willingness to share a certain amount of independence in the relationship, their deep romantic instincts make them passionate lovers once they do. Due to their passion, Aquarians are known to be the best partner among all the zodiac signs.
They're a lot of fun to date these water bearers. Let's move ahead to unfold the Aquarius romance.
Which planets are haunting the Aquarius zodiac sign? Uncover it from our free janampatri report.
---
A Summary to Aquarius Romance
Aquarius' love interests are intellectuals who enjoy a good debate. Hence, expect a lot of long talks in the company of Aquarians. These water bearers are selective regarding the person they date. One has to be special or unique in order to catch the attention of Aquarians.
As mentioned, a good debater always has their attention; one has to have interesting things to say. Wit and intelligence are all it takes to woo the Aquarius natives. However, they will take a while to open up to their partner. So it is difficult to say whether they are interested or not. Hence, the partner needs to be patient with Aquarius for a successful relationship.
---
Aquarius Romance: The "Romantics" In Water Bearers
Friendship is a core component of a romantic relationship with an Aquarius as they are expressive, engaging, and good listeners. In love, an Aquarian personifies the phrase "mates first, last, and always."
Both genders of Aquarians approach love with a polite "you have your life, I have mine, and we have our lives together" attitude that may make their partners crazy. When an Aquarian falls in love, the time spent in bed with their partner promotes the emotional intimacy essential for a romantic relationship to grow. Aquarian will get out of their head and embrace their feelings because of the physical intimacy of the relationship.
To embrace a healthy relationship ahead, find out your free astrology yearly.
---
Aquarius Men & Romance
The Aquarius Romance in a male would most likely say that he can fall in love, but this is untrue. Okay, he's not going to show off his romantic side or become the most loving lover, but he does have the ability to care sincerely and respectfully for the right person.
Aquarius men never express their love directly. They drop subtle hints indicating their love for their partner or would-be one. Their actions have layered with flirting, gentle talk, and certain romantic gestures. Hence, don't be surprised if you receive flowers and got a surprise in the form of candle light dinner date.
What's in store for your love life? Get to know by Talking to our Expert Astrologers now.
---
Aquarius Women & Romance
Like the calm, faint light from a distant star, Aquarius romance in women exudes a cold glamour. While an Aquarius woman may be sitting right next to you, you get the Aquarius love personality impression that their souls are thousands of light-years away, so far removed from matters of the heart as they are.
It's not that they can't be sensual, and engaged lovers; in reality, they usually are, at least at first. But what they want is a theoretical relationship. They sometimes get wrapped up in making plans for the future rather than focusing on how they feel about their relationship right now. She is loyal but wants to break free if feels claustrophobic.
Do you want to marry an Aquarius zodiac? check Your zodiac compatibility with Aquarius Woman.
---
Aquarius Romance: Positives & Negatives Aquarian's Love Life
It's nice to have a guide for what to expect when dating someone because each zodiac sign has its own set of characteristics and quirks. Even if it's from the stars, the more knowledge you have, the better.
Which sign would make you laugh your head off, and which will never respond to your text messages? Here are the pros and cons of dating each Aquarius sign.
The Positives
Aquarius will fascinate you with its never-ending stream of original ideas.
Whether it's a restaurant or a nightclub, they're still willing to try new stuff.
When you're in the company of an Aquarius, you'll always feel relaxed and calm.
For an Aquarius, you can be yourself.
The Negatives
Aquarians can be a little troublesome when they are too focused on their heads and not enough on their hearts.
If they aren't in control of a situation, they can become strangely aggressive.
Are you wondering about the pros and cons of your Zodiac? Download MyPandit App now.
---
Aquarius Romance: Compatibility With Other Zodiac Signs
Since Aquarius is governed by the element of Air, one of the other two Air signs, GEMINI or LIBRA, is possibly the best bet for an Aquarius. The favourable 120° – or four signs – spacing between Zodiac signs in the same variable creates a particularly harmonious relationship with a degree of compatibility well beyond the average.
Good: Gemini and Libra
Average: Taurus and Scorpio
The fact is that Aquarius, your perfect compatibility match, is unlikely to be a carbon copy of yourself (how boring would that be!). Their Star Sign, on the other hand, should not be too astrologically antagonistic to yours. Hence, Taurus and Scorpio are least compatible with Aquarius.
---
Aquarius Romance: Conclusion
Aquarians are the kind of people who will still believe you if you give them the benefit of the doubt. They will forget all negatives and focus on one positive aspect. It is the most important trait to keep a partnership going forward.
If you want to dive deeper into Aquarius relationships astrologically, Consult our Expert Astrologers.
---
---