Sagittarius Romance: The Free-Spirited Zodiac Signs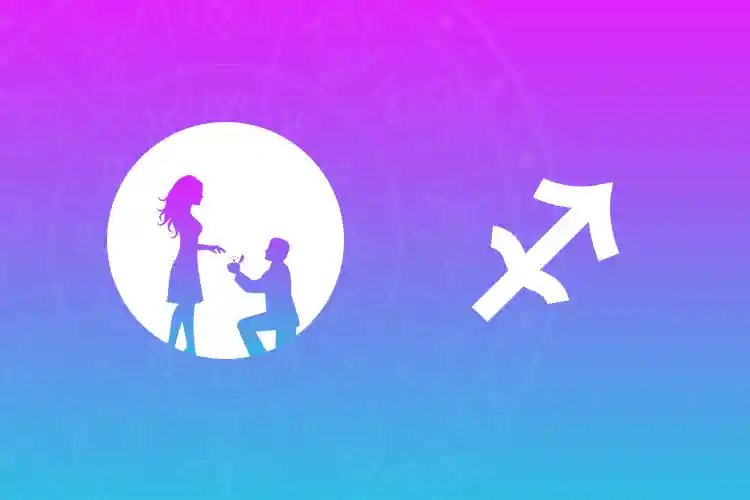 Sagittarius, the fretful, curious, and intelligent sign, thinks that it's hard to accept anyone from the initial stages and thus sets aside some effort to frame assumptions. They were brought into the world with a curious soul to utilise their sound creative ability and to show this world how special they are.
The archers can ask or say embarrassing things to their loved partner in their enthusiasm in order to see the results. Nothing serious, they do it to check the loyalty of their partner. Sagittarius is a complicated sign, hence, their romance is not going to be an easy ride. Further, more unwinding of Sagittarius romance going to happen. So Stay Tuned!
What would be the upcoming time for you? Uncover that in our free astrology report.
---
A Summary to Sagittarius Romance
Valid, unfading love is what a Sagittarius love personality is, and thus waiting to be found,  restored, or safeguarded from the world. No big surprise, Sagittarius are unreliable within, although their uncertainties are very much concealed by their talkative, and self-consumed nature.
They look for cover in optimism, which can go excessively far on some occasions. Their feeling of interest is when they are constantly frightened by truth and surprisingly shocked hopelessly by it.
They battle to look inwards when they are genuinely tuned in, and in this way, can pass up complete satisfaction. Sagittarius, who are very defensive of their own space, can be driven off track in love since they consider love to be limiting instead of engaging. We know many of you might not agree with this but yes, just Sagittarius things.
---
Sagittarius Romance: The "Romantics" In the Sagittarius Native
Sagittarius is a cheerful, perky, open, and audacious sign. While Sagittarius's real assessments and blameless bad manners can affront their accomplice on occasion. On the other hand, they will walk with a good-humored attitude, infecting abundance, readiness to talk about everything, feeling of experience, and energy for movement.
They are more joyful when they are in a new relationship. The free Sagittarius may start to hate the feeling of restriction and commitment that a serious relationship brings. They get immersed in their dreams, which can contrarily affect their connections.
Consult our expert astrologers and know about your romantic life according to your zodiac signs.
---
Sagittarius Men & Romance
They have a great funny bone. A Sagittarius man has the best comical nature in the zodiac wheel! On the off chance that they're making a cliché joke or a wise one, every one of them will be natural as a professional comedian.
Your Sagittarius love interest can be severely straight to the point. They regard realism and can communicate without glossing over it. Indeed, they can be excessively daunting again and again. However, they are barely viewed as liars.
They can be tempting, especially when feelings of interest connect with them mentally. Sagittarius have a sexual craving that drives them to look out for a wide scope of sexual experiences for fun and wonderful experience. Since they have a high need for consistency, they can think that it's hard to focus on one task. Therefore, it is always a battle in their relationships.
Need a daily dose of love horoscope? Download the MyPandit App.
---
Sagittarius Women & Romance
Sagittarius women have the inborn interest and unbounded energy to work on their psyche or join the Peace Corps, or go to an underdeveloped country. They are not habitual slouches that go through their days before the TV. They will, in general, be out of the nation, ceaselessly leaving on trips and experiences that others imagine to happen in their lives.
Sagittarius women keep you pondering about the next outing they have prepared for you, regardless of whether you like it or not. They like accomplishing something spontaneously with their partner. Their hopeful mentality pulls in lovers who support them and have possibilities in their lives, which gives them favourable luck.
They regard their relationship on a different level, which directly or indirectly helps them in achieving their goals. A Sagittarius woman will heal you up or counsel you to make you feel good when you are down.
Do you want to marry a Sagittarius zodiac? check Your zodiac compatibility with Sagittarius Woman.
---
Sagittarius Romance: Positives and Negatives In Sagittarius Love Life
Like every zodiac sign, Sagittarius also has its share of good and bad. This free-spirited sign is adventurous, however, is difficult to deal with. Let's unwind ahead of the positive and negative aspects of Sagittarius natives.
The Positives
Since a Sagittarius is a free-spirited explorer who enjoys spontaneity, falling in love with one would be an experience in itself.
They have more freedom and are more open about their sexual fantasies.
Adventure is an inextricable part of their lives, and you can avoid dating them if you don't like it.
Sagittarians are upbeat, honest people who can always see the bright side of things.
The Negatives
 A Sagittarius may become impatient and emotionless.
If you're not about being self-sufficient, this isn't about you!
Sagittarians take their time to get to know their significant other and commit to a partnership.
They will not tolerate anything interfering with their liberty.
They are self-sufficient individuals who believe in completing tasks without the assistance of others.
Wanna get Genuine Personalised Results for your love life? Consult our Astrologers!
---
Sagittarius Compatibility with Other Zodiac Signs
Aries, Leo, and Aquarius are the best signs for Sagittarius. Since they hold a Sagittarius interest in a long-term relationship, these signs are believed to be highly matched with Sagittarius.
Best: Aries, Leo, and Aquarius
Average: Scorpio, Taurus, Sagittarius, and Virgo
Scorpio, Taurus, Sagittarius, and Virgo are the worst signs for Sagittarius. They just don't enjoy each other's company much as compared to Aries, Leo, and Aquarius.
---
Sagittarius Romance: Conclusion
Most of us have wished at some stage that we may, in some way or another, mystically know the one we're attracted to. We say, isn't it superb to find anything from the smallest of pieces of information? Isn't it genuine that we would all be able to live with minor signs?
In Every Sagittarius couple, both have qualities. Keeping in mind that we're not recommending that experiencing passionate feelings effectively is an imperfection, there is something beautiful about holding tight to a relationship for quite a while with being with each other.
Do you have any Sagittarius crushes? Thank god, we have made it simple for you to say those three golden words to him/her or not. Ending this blog of Sagittarius love scope, stay healthy, and stay happy. See ya!
Do you need astrological insight into Sagittarius romance? Talk to our Expert Astrologers.
---
---