UP Election 2022: How Planets Hold the Key To Akhilesh Yadav's Success?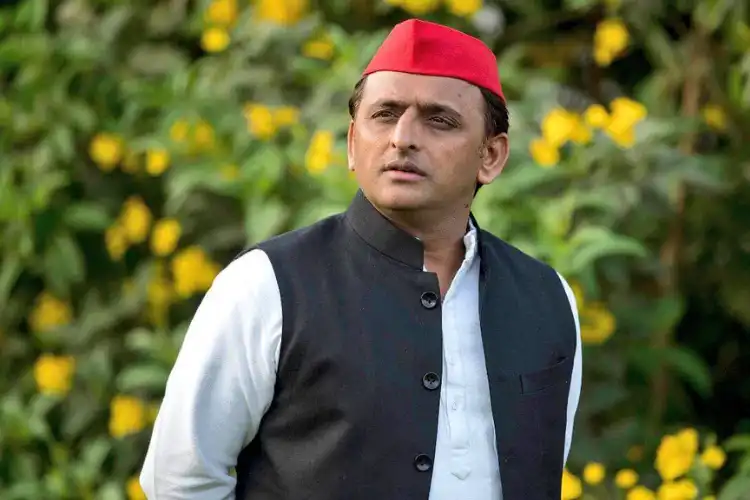 As the UP Election 2022 is approaching, political parties are working hard to woo the voters. Like every candidate, Samajwadi Party President Akhilesh Yadav is also extensively working hard to win this political battle in UP. This time he is going among the people and seeking their support through Vijay Rath Yatra.
With his arch-rival Shivpal Yadav joining hands with him, he is also strategically getting the opponents to be on his side. Akhilesh Yadav's Vijay Rath Yatra is also the talk of the town. Under all these circumstances, it will be worth watching how successful this strategy of Akhilesh Yadav can be. And meanwhile, if you want to see how your planets support you, get your Free Janampatri Analysis!
Now, Let's have a look into Akhilesh Yadav's horoscope through his solar chart. Can he win the UP Election 2022? Let's explore the answer step by step. Step one: the birth chart.
---
The Game of Big 4: Saturn, Moon, Ketu, Sun
As the party leader, Akhilesh Yadav must be weaving the dreams about forming his government in UP elections 2022. But, he should not ignore the planets in his horoscope. Akhilesh Yadav's sign Gemini has the combination of four big planets- Saturn, Moon, Ketu and Sun.
The combination of these four planets makes him aggressive, courageous and yet emotionally weak. These planets, at times, also bring a sense of arrogance in him. Amongst these four planets, the shrapit dosh of Saturn-Ketu helps people in leadership roles, but in his case, it can also lead to some internal politics in the party,
Furthermore, the Visha dosha of Saturn-Moon weakens Akhilesh Yadav mentally. In the same house, there is also a Grahan dosha of Sun-Ketu, which becomes a hindrance for Akhilesh Yadav in getting the due credit for his work. Such doshas in the kundali create obstacles to the success of an individual. Astrologically, it is advisable for him to get a Shanti Puja done, which can nullify such doshas.
Are doshas pose the threat to your success? Book a personalised puja as a full-proof remedy.
However, in the horoscope of Akhilesh Yadav, there is also a parivartan yoga of Moon and Mercury, which can be helpful for him. It allows administrative and influential people to listen to his views as well as strengthens his analysis.
From his track record, Akhilesh Yadav is an expert strategist but, will the planets help him in building a strategy for UP Election 2022? Here's what the planets have to say.
BJP's youth leader, Varun Gandhi, has criticised his own party for mishandling Lakhimpur Kheri developments. Click here to know what Varun Gandhi says.
---
Akhilesh Yadav's 2022 Campaign: Jupiter Transit to The Rescue
The UP elections 2022 are going to be held from Feb 10 to Mar 7. At this time, there will be Shani Dhaiya in Akhilesh Yadav's horoscope, which is likely to create bitterness in the relationship with his loved ones. Those who are with Akhilesh Yadav now may leave his side. During the period, it is a possibility that Akhilesh Yadav may face opposition from his own alliances.
Moving ahead, in 2022, he also needs to pay special attention to his health. The planets are giving off negative signs to Akhilesh Yadav, and he may go through mental stress as well. However, Jupiter transit in April will bring positivity for him. During this period, Jupiter is going to transit with natal Mars, which may give the much-required direction to his work. He will also be able to strike a chord with his allies.
Will your career reach the height you expect it to be? Read free career and business horoscope 2022 to know in detail.
---
Can Akhilesh Yadav Win UP Election 2022?
Before the elections, he has been targeting the Yogi government by meeting the people of the entire state through Vijayarath. If we look at his horoscope according to the election, Rahu and Ketu are passing through the 6th and 12th house in his Kundli, which are pointing towards not-so-good times.
As these planets are transiting from afflicted houses, it will not help Akhilesh Yadav in bringing stability in terms of strategy. He is likely to be in a state of confusion most of the time, so the possibility of victory is less. His victory in UP Election 2022 may not be as easy as Yadav thinks it will be!
Does constant uncertainty often put you under stress? Talk to astrologers for a better solution. First consultation is FREE.
Also Read:- Unravel how Rajnath Singh will be able to contest UP Elections 2022.
---
---