Chaumasi Chaudas: The Celebration Of The Great Swami Mahavir's Teachings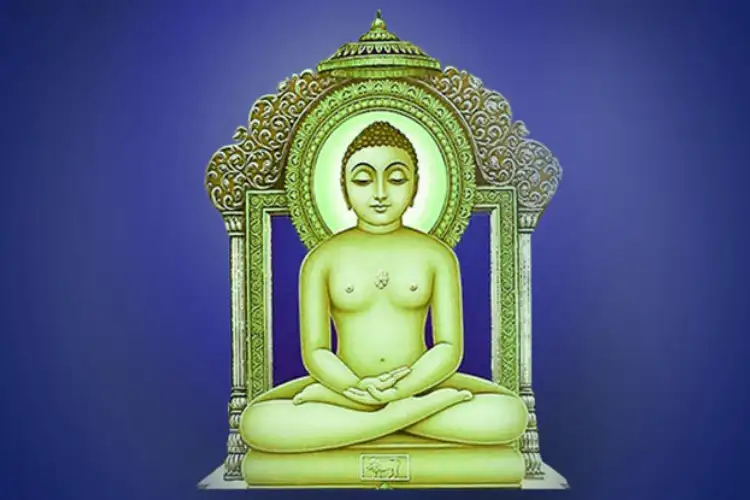 When is the year 2022 Chaumasi Chaudas?
| Event | Date | Day |
| --- | --- | --- |
| Falgun Chaumasi Chaudas | Mar 17, 2022 | Thursday |
| Ashadh Chaumasi Chaudas | Jul 12, 2022 | Tuesday |
| Kartik Chaumasi Chaudas | Nov 7, 2022 | Monday |
Importance of Chaumasi Chaudas
Chaturmas or Chaumas refers to a period of four months, which begins on Ashadhi Purnima, from June to July, and ends on Kartik Purnima, from October to November.
This period of four months is said to be the time of monsoon in India; hence Chaumasi Chaudas is also known as Varsha Vaas.
During monsoon, rain brings greenery everywhere; hence the environment is filled with rich flora and fauna. In Jainism, it is believed that plants and animals feel emotions too; they feel pain and happiness just like humans, so the concept of Ahimsa (Non-violence) is not restricted to just humans. They view plants, animals, and every micro-organism as life with all kinds of senses and emotions.
There is a lot of emphasis on Ahimsa (non-violence) in Jainism. In order to protect the voiceless plants and animals from humans, Jain sages avoid travelling during these four months of Chaumas. Jain people, especially monks, are advised to stay indoors and commit themselves to prayer and meditation for everyone's well-being.
Are planets aligned in your kundali? Get a free janampatri analysis to know in detail.
How is Chaumasi Chaudas celebrated?
The four months of Chaumasi Chaturmas are significantly life-changing for the devotees. They take holy baths in the sacred rivers and observe fast or take just one meal a day during this period. Jain monks perform spiritual practice and penance by remaining confined to their ashrams.
In Jainism, the philosophy and teachings of Lord Mahavira are followed and practised with great devotion. During the auspicious time of Chaturmas, Jain devotees worship the Lord and perform many religious rituals with full dedication. They clean and decorate their homes to attain positive energies and pureness. Donations, charities, and alms are also given in order to wash off all the sins and earn good karma.
How would be your health in the upcoming days? Read free health and fitness horoscope 2022 for a detailed prediction.
Who was Lord Mahavir?
Lord Mahavir Swami, also known as Vardhamana, was the 24th Tirthankar of Jainism. Throughout his life, he taught people to follow the path of truth and non-violence and to live together with peace and love. He also strongly condemned animal sacrifices, caste discrimination, etc. His central principle of faith was the complete elimination of violence in all its forms.
Mahavir Swami was one of the greatest Mahatmas in the history of the world, who left luxurious royal life to live an ordinary life in search of spiritual awakening. Mahavir Swami's life is greatly inspirational for humanity.
Birth of Mahavir Prabhu
Mahavir Swami, the great Tirthankara of Jainism, was born on the day of Trayodashi of Chaitra month in 599 BC. He was born as an ordinary child of King Siddhartha and Queen Trishala of the Ikshvaku dynasty in Kshatriyakund, the city of Vaishali state.
It is believed that right after Swami's birth, his kingdom prospered and flourished significantly; hence he was named Vardhamana. He was also known by names like Sanmati, Mahavir Shramana, etc., because of his intelligence and braveness. Some would call him "Jinendra", as he had conquered all his inner desires and attained infinite knowledge.
Mahavir Swami's Marriage - Lord Mahavir Life History
Despite being born in a royal family as the son of a king, Mahavir Swami had no attachments to worldly pleasures, but as his parents wished, he got married to Yashoda, the daughter of Samaraveer, who was the Mahasamanta of Vasantpur. After marriage, they also had a daughter named Priyadarshini.
Need insight for your ideal life partner? Read free marriage horoscope 2022 to know some Astro-views.
Story of Mahavir to Swami
At the age of 30, Mahavir Swamiji decided to leave everything behind, including his royal life, his family, and his kingdom, to live an ordinary life searching for spiritual awakening. He lived a tough life in solace, and after spending 12 years full of hardships, he finally attained enlightenment. Hence he became very popular all around the world, and an inspiration for everyone. Later on, great kings and emperors would follow him and listen to his teachings.
Story of Mahavir Swami and the cowherd
One day, when Lord Mahavir was wandering around, as usual, he stopped near a big tree and sat under it to meditate. While he was meditating, a Shepherd came there with his herd of cows and asked Mahavir swami to take care of his cows until he returned. Mahavir swami did not reply to the shepherd as he was in deep meditation. However, the shepherd went away thinking that Mahavir swami had heard him.
After a couple of hours, the Shepherd returned to where Swami was meditating and saw that his cows were missing. He then questioned Swami, asking what he did to the cows; Swami was still in meditation and did not reply to him.
After which, the Shepherd started searching for his cows everywhere in the forest. Unable to find them, he came back tired and saw his cows standing near Swami, although Swami was still in meditation.
The shepherd got angry and was about to attack him when a divine power appeared from above and stopped the shepherd from committing such a grievous crime. The power said to him that without listening to the answer, you left your cows with Swami. The shepherd realised that he had made a mistake and fell at swami's feet and apologised to him.
Want to make your decision making easier in the upcoming days? Get a free yearly astrology report 2022 for accurate predictions.
Teachings of Mahavir Prabhu
Mahavir Swamiji, the 24th Tirthankar of Jainism, through his teachings not only taught people the art of living but also taught them to walk on the path of truth and non-violence. His teachings and philosophy became the main principle of Jainism, these principles include 5 Panchsheel – Satya, Aparigraha, Asteya, Ahimsa, and Brahmacharya.
The following are the 5 Panchsheel principles in detail:
1st Principle - Truth
Mahavir Swami has given the first importance to 'Truth' in his Panchsheel principles. He has described truth as the most powerful and greatest in the world and has always inspired people to follow the path of truth.
2nd principle - Non-violence
The great Tirthankar, Mahavir Swami Ji emphasized the principle of non-violence. He has described non-violence as the biggest religion and said that one should not have feelings of violence towards other humans or animals.
3rd Principle - Asteya
Mahavir Swami, who taught the world to practice compassion and gratitude, has also taught the world not to steal. He says that it's the biggest crime to steal the things of others, and one should be happy and content with what they have got.
4th Principle - Brahmacharya
Brahmacharya is one of the most important principles given by Mahavir Swami, which can be followed only by a true and determined follower. Any man who becomes a Brahmacharya can attain salvation.
5th Principle - Aparigraha
Lord Mahavir says that the world is mortal and the desire for materialistic things is the root of your sorrows. Aparigraha, one of the 5 Panchsheel principles says not to accumulate more than one needs.
Conclusion
In conclusion, we would like to say that during this auspicious festival one should follow and adapt the teachings of Swami Mahavira in their life. This way they can ensure happiness, prosperity, and peace in their life. Furthermore, practising Swami's teachings can also help a person attain salvation. We hope this article helped you understand the importance of Chaumasi Chaudas and wish you all the best in life.
Feeling overwhelmed due to issues in life? Talk to astrologers for guidance. First consultation is FREE.