Sakat Chauth 2023: Why It Is The Most Auspicious Chaturthi In Hindu Calendar?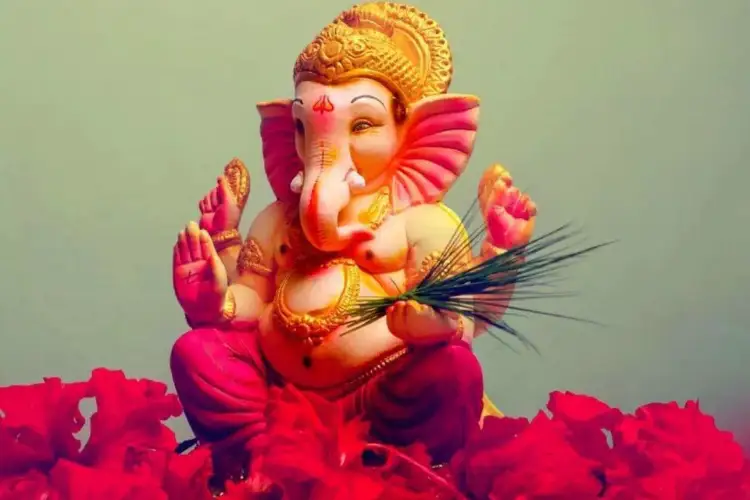 Sakat Chauth 2023: Dates & Timings
| Event | Muhurat |
| --- | --- |
| Sakat Chauth 2023 Date | Tuesday, Jan 10, 2023 |
| Moonrise | 08:51 pm |
| Chaturthi starts on | Jan 10, 2023 at 12:09 PM |
| Chaturthi ends at | Jan 11, 2023 at 02:31 PM |
Significance of the Sakat Chauth
The Sakat Chauth is an auspicious day for devotees all over India; however, the fast is very strictly followed, mainly in Maharashtra and Tamil Nadu. The fast is an attempt to impress Lord Ganesha, the supreme Lord of intellect. Lord Ganesha is also known as "Vighnaharta", which loosely translates as the remover of all obstacles. Hence the intention behind keeping the fast is to get rid of all obstacles in life by worshipping Lord Ganesha.
You May Like To Read: Ganesha Tips for a Happy and Prosperous Life
Sakat Chauth fast 2023 in the month of Paush is considered to be strict and devotees ensure that they only eat fruits and vegetables throughout the day and only break their fast after witnessing the moon. A typical Indian diet on the day of Sakat Chauth consists of Sabudana khichdi, potatoes and groundnuts. If the Sakat Chauth happens to fall on a Tuesday, it is called the Angaraki Chaturthi, which is considered highly auspicious and a great day to have all the obstacles in your life destroyed by worshipping Lord Ganesha.
As per the Hindu beliefs, worshipping Lord Ganesha on this auspicious day with true faith shall bring wealth, prosperity in one's life, eliminate all obstacles and remove the malefic effects of the Planet Mercury.
Is your horoscope showing positive or negative Mercury? Get free janampatri report to know in detail.
Sakat Chauth Pooja Vidhi
There is a very simple but powerful procedure to worship Lord Ganesha on this auspicious day. Listed below are the rules you need to follow on the day of Sakat Chauth to impress Lord Ganesha. 
Maintain celibacy.

Wake up early and take a bath.

After finishing the bath, chant Ganesh Ashtottara.

In the evening, place an idol of Lord Ganesha on a clean platform and decorate it with beautiful flowers.

Light incense sticks and diyas in front of the idol.

Offer fruits and Prasada to the Lord.

Worship Lord Ganesha

In the end, offer some Durva grass, sesame laddus and Arghya to the moon.
You can gain the blessings of Lord Ganesha, by booking our online live Ganesh puja.
Legends behind Sakat Chauth
Sakat Chauth story has two versions that help us understand the history of Sakat Chauth, and in this section, we shall discover both stories in an attempt to understand the significance and idea beyond the celebration of Sakat Chauth.
Also Read: Why is Ganesha Astrology Important In Your Life?
The First Story
Once mother Parvati went to take a bath and kept Lord Ganesha at the door of the cave to prohibit the entry of outsiders. Lord Ganesha, being an obedient son agreed and made a promise to his mother that no matter what happens, he shall not let anyone in. When Lord Shiva came to see Mother Parvati, as promised Lord Ganesha stopped him from entering, which left Lord Shiva perplexed. He kept on requesting politely, but Lord Ganesha did not back down even for a moment and kept denying Lord Shiva's requests to meet Mother Parvati. It made Lord Shiva very angry, he could not control his anger and beheaded Lord Ganesha's with his Trishul (Lord Shiva's weapon).
When Mother Parvati heard the noise she rushed out and saw Lord Ganesha's body lying on the floor. Witnessing what had happened Mother Parvati got extremely disappointed with Lord Shiva and asked him to bring their son to life. Then Lord Shiva put an elephant's head over Lord Ganesha's body and brought him back to life. That day was Sakat Chauth, and ever since this day is celebrated as the rebirth of Lord Ganesha.
Also Read: Different Lord Ganesha Names And Their Significance
The Second Story
Once there lived a blind and poor old lady in a village with her son and her daughter-in-law. She used to worship Lord Ganesha every day. Once Lord Ganesha appeared and promised to give her anything she desired to which she replied that she is very old and is not sure what to ask for. Lord Ganesh advised her to consult her son and daughter-in-law and get back to him in some time. She agreed and went on to ask her son and daughter-in-law's advice regarding the situation. Her son advised her to ask for money and wealth and her daughter-in-law advised her to wish for a grandson. She arrived at the conclusion that both of them were misguiding her and only asking her to ask for what they personally wanted. She then decided to consult one of her neighbours, who guided her to wish for her eyesight and she liked her suggestion.
The next day when Lord Ganesha appeared again and asked her for what she wished to which she said, "Oh Lord give me wealth, a healthy body, a grandson, my eyesight, a happy family and salvation. Lord Ganesha said "Oh old mother you have asked me everything and since I promised to give you everything you wanted, I shall do so", after which Lord Ganesha granted all her wishes. That day was Sakat Chauth which has since been practised by mothers for the betterment of their children.
Have A Look: Ganesh Puja
Important Mantras of Lord Ganesha
Vakratund Mahakaya Suryakoti Samprabha, Nirvighnam Kuru me dev, Sarvakaryeshu sarvada.
Vighneshwaraya Varadaya Surapriyay Lambodaray Sakalaya Jagadwitayam, Naganath Shrutyajnavibhushitaya Gaurisutay Gananath Namo Namaste.
Ameyaya ch heramba parshudharkay te, Mooshak Vahanayev Vishweshaye Namo Namah.
Ekadantay Shuddhaya Sumukhay Namo Namah, Prapanna Janpalaya Pranatarthi Vinashine.
Ekadantaya Vidyamahe. Vakratundaya dheemahi, Tanno Danti Prachodayat.
Remove obstacles and maintain peace in your life, by placing Ganesha Yantra.
Conclusion
The above-mentioned are some of the essential facts and rituals one should know about the Sakat Chauth, and now that you know them, we hope you are able to celebrate this auspicious day with all your faith. We wish you a happy sakat chauth and hope Lord Ganesha grants all your wishes.