Aries Horoscope 2022: Yearly Predictions for Adventurous Aries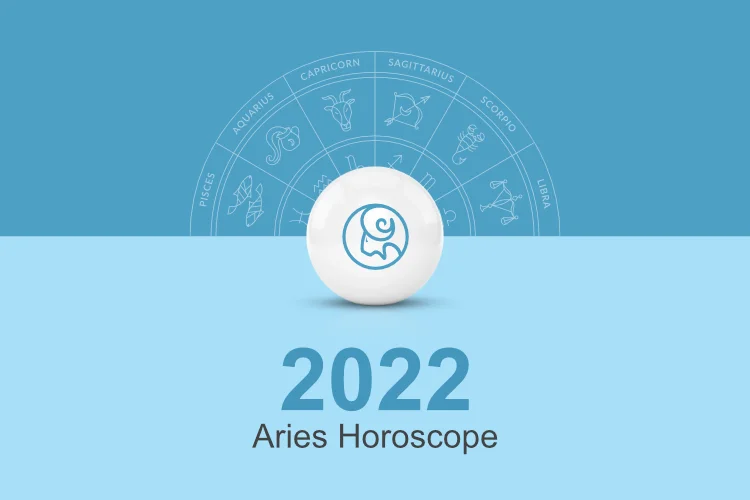 As per Aries 2022 horoscope, the year might start on a sluggish note, especially the first quarter. At the start of the year 2022, some baggage of the previous year may be carried out. The transit of Saturn in Capricorn is favourable, especially with regard to your career.
However, your efforts may have a good rise in your career because Saturn is all about rewarding hard work and efforts. But, try not to change your career in the first quarter of the year. So, your Aries horoscope 2022 suggests, be very careful with your decisions during this quarter because it may affect your future.
You might face some challenges in the first quarter of the year, but overall your financial year will be good and rewarding. According to the 2022 Aries Finance horoscope, you might explore new avenues, which can improve your fortunes.
It is a possibility that even your minor plans can be rewarding, and you can earn a lot of revenue through those investments. As your Aries 2022 horoscope says, these long-term investments can help you earn fortunes and build property. And, because you are smart enough to be meticulous, you might earn some extra revenue this financial year. This year might be the year of gains for you. Also, there might be a steady rise in income in the second half of the year.
When it comes to your relationships this year, Aries 2022 prediction says that your romantic and personal life in this year might be rewarding and fulfilling in all facets of your personal life. You are likely to experience some magical moments with someone special, starting April 2022 till September 2022.
As per Aries 2022 Love predictions, all Aries singles, be alert because you might also see some progress in te rms of your relationship status. The transit of planets is going to be well-aligned because of which you are most likely to find your true love this year. As per the Aries 2022 horoscope, both of you may hit it off instantly and go for a long-term relationship. For those who are married or ready to get married after a long relationship, this year might go smoothly for you.
This year might bring some challenges for you academically. At the starting of the year, there may be some problems with your interests and learning. According to Aries horoscope 2022, Aries students minds and interests could be moderate for higher learning. However, you are native to research, so you may expect to get better results.
The natives appearing for the board exam need to take up academics more seriously. Then only you are likely to perform well. To perform well in your academics, you may also need to burn the midnight oil, but it will be all worth it in the end. So, just try to fetch better results and work harder this year.
According to horoscope 2022 Aries, Health is another major area in which you need to give more attention this year. As your 2022 Aries Health Horoscope suggests, you might need to take up some medical assistance this year. However, you are likely to take more time to recover because medication support can be limited.
Therefore, you are advised to remain fit and be careful concerning your health. It is possible that you might not care that much about your health level, but it is essential for you to learn how to take good care of yourself to be healthy.
As per Aries 2022 horoscope, this possibly is not the right time for you to settle down in a relationship. Although if you are already married, then you might do well in your marriage. But to find someone and then settle down to get married is possibly not going to be a favourable decision for you this year, as the 2022 Aries Marriage horoscope says.
Those delays that are indicated from the regular schedule, you should plan to decide and then marry. Because the planetary alignment rarely gives a favourable combination for marriage. You are likely to take some tough decisions this year in terms of marriage. So, it will be best if you are careful in making any commitments because it may end up being more challenging to keep up the promise of commitment for you.
If you want Jupiter to favour you, you might need to wait for the second half of the year to start. Meanwhile, try to deal with what Pluto has to offer. If you don't know, Pluto tends always to keep you on your toes. So, try not to be impatient this year and focus on the projects at hand. As per Aries 2022 Career horoscope, try not to impose your ideas and look over them again and again.
The second half of the year might be the time for you to make changes and be inspired. Possibly, you will be more creative, feisty, and innovative in the second half of the year. So all the Aries people are advised to, no matter what, fight for accomplishing your objectives.
Whether it is for career, love, or business, fight for it and not give up. You might be able to make successful investments and earn a fortune with them. Also, try to trust people because they are likely to help you to achieve your dreams. This year might start on a sluggish note, but there is a huge possibility that it will end on an amazing note. So, don't give up and work harder!
You don't have to worry at all because this year might bring fortune by the end of it. Just you have to be extra careful while making decisions and take good care of your health. And then, you are good to go!
2022 Aries Career Horoscope
Aries Education Horoscope 2022
Aries Love Horoscope 2022
Aries Health Horoscope 2022
Aries Marriage Horoscope 2022
Aries Finance Horoscope 2022
Aries Wealth Horoscope 2022