Solar Eclipse 2021: Effects of Solar Eclipse On Your Zodiac Sign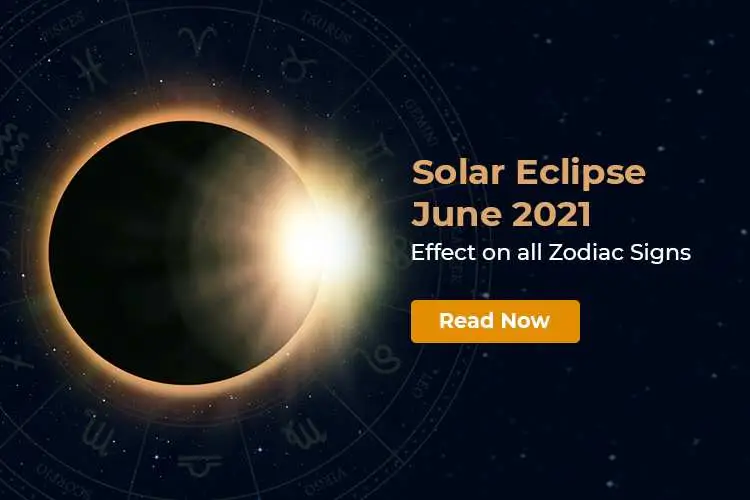 Solar Eclipse 2021: Find Out How It Affects Native's Lives
Just like you never forget to make a wish before a falling star, you may don't want to miss how the ring of fire is shaping up. Right, we are talking about the upcoming solar eclipse of 2021. Also, it will be the first 'Surya Grahan' of the year 2021, and that's why it would be no less than a treat for stargazers. Agreed? Now, before you go berserk, make sure you are temporarily out of India. This is because Indian astrology lovers might get slightly disappointed as they won't be witnessing the celestial events of 2021.
The magnitude of the solar eclipse is 0.943, while the stability will be 3 minutes and around 48 sec. Nearly 4-hour long Solar Eclipse will be visible from North Canada, Greenland, and Russia. So, if you are enjoying your vacation in one of these countries, get yourself ready with a camera. Or else, capture the moments with your naked eyes as well. If the Moon is blocking the sun rays from entering the Earth, it may positively or negatively affect your zodiac signs.
Therefore, we summoned our best astrologers to get the details about the upcoming solar eclipse occuring on which day. Of course, we will let you know the impacts of solar eclipse your zodiac signs but before that, make a note of the event's date and time. Also, you can read about different eclipses and its significance on human life.
Important Date And Time For Annular Solar Eclipse 2021
Date: 10th June 2021 – Thursday
Tithi: Vaishakh Amavasya
| Event | Timing |
| --- | --- |
| Beginning Of Partial Solar Eclipse | 01:42 PM |
| Eclipse amalgamation | 03:19 PM |
| Full Eclipse | 04:11 PM |
| Omission Begins | 05:03 PM |
| End of Annular Solar Eclipse | 06:41 PM |
Note: All the above-mentioned timings are in IST (Indian Standard Time)
Solar Eclipse 2021 Effects On Zodiac Signs
Below is the solar eclipse 2021 effects on the native's lives according to their zodiac signs. Remember, the predictions are made using the theories of Vedic astrology and it's based on the native's Moon sign.
Dos And Don'ts During Solar Eclipse 2021
Take a bath before and after the solar eclipse
At the time of full eclipse, light up the diya inside your home temple
Worship deities by reciting mantras and devotional songs
Observe fast on this day and indulge in generous works or charity activities
Make Sun-related donations to avoid fear, delusions or financial loss
One should not make the donations during the evening time
Sprinkle ganga water inside your house
You should feed cows and perform Gayatri rituals during this phase
The solar eclipse doesn't have impact in night time, so you should not indulge in night activities
The inauspicious period starts before the 12 hours, so make sure you begin your fast at that time
You should consume food only after the omission of the eclipse
One should not keep doors of temples open during Surya Grahan
You should put Durva or sesame seeds in curd or milk to avoid getting them spoiled
You should take a bath at the holy river in order to wash off your past sins.
Visit holy places like Haridwar, Gaya, Kurukshetra, or Gangasagar for taking bath in the river.
Final Thoughts
The first solar eclipse taking place on the 2nd week of June 2021 may bring you positive changes as well as negative changes in your life. We understood how the solar eclipse could affect our lives, so do follow the above-mentioned things during the Surya Grahan. By doing so, you may reduce the harmful effects of the eclipse. Hope you had a clear picture of the upcoming solar eclipse.
To know the effects of upcoming astrological events on your life, have one on one astrology consultation with Vedic Experts!
Astro Guide
---
Day Guide
Comprises of events likely to happen, hourly guidance & precise timeframes
Life Meter
Know the percentages of different aspects of your physical and mental state
Compatibility
Check out how well will your wavelengths with others match